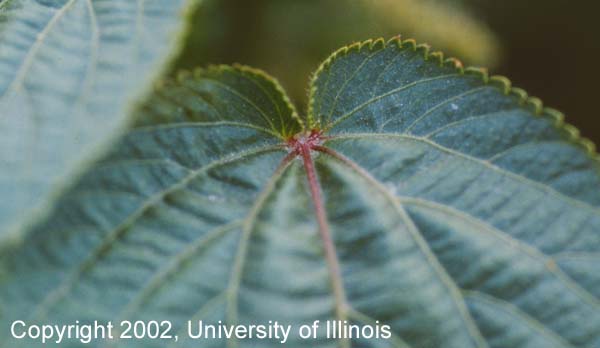 Figure 2. Red coloration near petiole
Hophornbeam copperleaf is commonly misidentified as prickly sida (Sida spinosa). Prickly sida, however, has coarser larger leaf serrations and stipules (spines) in the leaf axils.
Hophornbeam copperleaf is monoecious (male and female flowers on the same plant). The male flowers are produced on axillary spikes, while the female flowers are produced on a long terminal spike. Capsules will split open when mature to release the seed. Previous research has reported that hophornbeam copperleaf produced 12,500 seeds when grown without competition, but seed production was greatly reduced (1000 seeds) when grown in competition with soybean. Seeds are about 0.2 cm in diameter, shaped like a raindrop, and have a wrinkled appearance.
Emergence of hophornbeam copperleaf begins in late May or early June, and may continue after each rainfall event throughout much of the growing season. Germination appears to be based on temperature which may explain the late flushes that occur.